SAME DAY PRINTING IN LONDON
In the bustling heart of London, Large Print London stands out as the premier choice for affordable same-day printing needs. We cater to a diverse range of business and personal requirements with precision and efficiency. Open 24/7, even on bank holidays, our commitment to excellence ensures that your print demands, be it banners for events, documents for business, or custom garments, are met promptly without compromising on quality. Whether it's last-minute presentations or event materials, trust Large Print London to deliver every time.
TRUE SAME DAY PRINTER YOU CAN FINALLY RELY ON
Urgent Printing & Delivery
At Large Print London, we pride ourselves on offering superior quality, same-day printing services throughout the city. Our product range is enriched, and we specialize in catering to urgent requests with efficiency and reliability. From business cards to banners, posters, flyers, and document printing, your order placed today will be completed and ready for collection today – that's our promise to you.
Our copying services cater to a range of requirements, whether you need to duplicate a single document or several thousand. Simply send us the scanned copy of your documents and we'll have them ready and delivered to your preferred location. Alternatively, you're welcome to drop by our conveniently located office at 129 Mile End, Bethnal Green, where our state-of-the-art equipment allows for instant copying services.
When it comes to large-format printing in London, we are unmatched. We're dedicated to helping you stand out with the fastest large-format printing service in the city. Our product suite includes large format banners, posters, flags, exhibition pop-ups, foamex boards, and distinctive signage & display printing.
Our seasoned design team is equipped to assist with a multitude of design services. Whether you need to create a compelling banner, a vibrant poster, or a captivating signage, we are here to provide expert design assistance every step of the way.
Large Print London is also specialize in full color printing of Brochure, Catalog, Company Profile, Sticker, digital Eco Solvent Print, Festoon, Flyer, Leaflet, Magazine, Company Profile, Magazine, Product Label, Prospectus etc.

Planning to launch your own merchandise or need personalized t-shirts or hoodies? Look no further than Pol Print. We provide a same-day t-shirt printing service, promising quality fabric and prints that withstand time and numerous washes.
How Same Day Printing Works
Large Print London is a full-service, London printing company with extensive experience in digital and large format printing services. We provide our clients a wide range of print capabilities that comprise large format print to document copying service. We have served some of London's most renowned companies with high quality printing services. As a local London print shop, we know what is required to earn your trust and satisfaction.
Same Day Excellence: Recognized for our proficiency in same-day printing, we're not just fast – we're precise, ensuring every project, big or small, meets your deadline without compromising on quality.
Cost-Effective Solutions: With our expert guidance, we navigate you towards the most efficient and budget-friendly printing methods. Our aim? Excellence, without exorbitance.
For Everyone, Every Time: From individual clients to the most prestigious brands in the UK, our portfolio is diverse. Every project, irrespective of size, is given the same dedication and attention to detail.
In-House Precision: As a local London print shop, we handle all projects in-house. This not only ensures unmatched quality but also gives us the ability to oversee every stage of the printing process.
Always Open, Always Ready: Be it a regular day or a bank holiday, midnight or noon, our doors are always open. Need an urgent print job? Count on us to deliver, 24/7.
When it comes to print in London, Large Print London is your trusted printing shop. We seamlessly blend expertise, affordability, and unwavering dedication to fulfill your needs, no matter the time or scale of your project.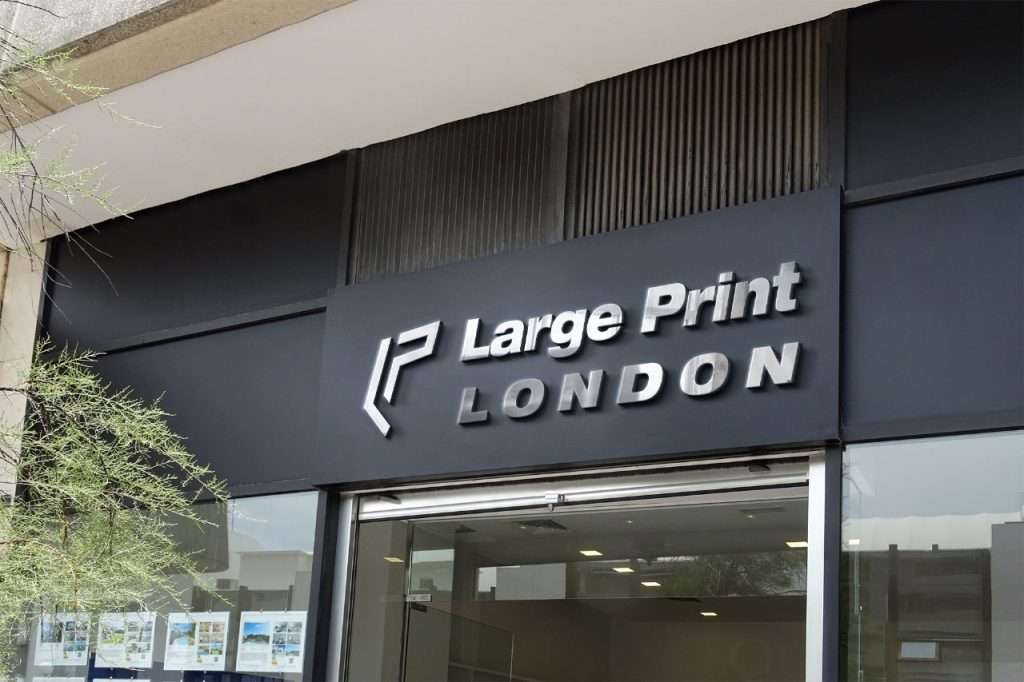 Large Print London Reviews​
15 reviews on
The gentleman at Large Print was very nice and helpful! This will definitely become my go to place for printing services.
Fantastic service. I called them at 6pm on a Friday night and they had my printing ready in less than an hour. Highly recommend
Very efficient, I was desperate to print asap and it was perfect. Highly recommend
Great communication, reasonable prices and stellar printing. If you need last minute posters, printing, etc. I really recommend them.
Izabella oostra
2023-09-25
Thank you so much for your quick and efficient service, and we hope to work with you in the future! You have been great! Thank you from the Bespoke Events Team 🙂
Great experience. Fast turnaround and great quality.
Located inside the "Your Hive" building. Amazingly helpful service! I was in urgent need of some documents, and within 2 minutes of arriving and sending my documents, I had printed copies! Cannot thank you enough!
Class gaff great printing
Our Same Day Printing Products
Our same day printing services are tailored exclusively for our valued London-based customers. We take pride in our ability to print and deliver anywhere within London, all within an impressive 2-hour timeframe. Whether you require immediate printing for an urgent project or a last-minute event, we have you covered. Explore our wide range of same day products and conveniently place your order online. At Large Print London, we're here to meet your needs with unmatched speed and efficiency.
In the whirlwind pace of the business and academic world, deadlines don't wait for anyone. At Large Print London, we comprehend the urgency of your document printing requirements. Our same-day document printing service ensures that your crucial paperwork, reports, and presentations are prepared precisely when you need them.
When your personal style or promotional event demands immediate attention, Large Print London's same-day t-shirt printing service steps up to the plate. Whether you're seeking to express your individuality, promote an event, or outfit a team, our rapid turnaround guarantees that your custom designs come to life on high-quality fabric.
We offer a wide range of same-day photo printing services in London, catering to any type and size of photos. We offer a diverse range of paper options such as Matt, Gloss, Satin, and even vintage-style uncoated paper, allowing you to choose the perfect finish for your prints. With our high-quality large-format photo printer, we can produce photos of any size, whether big or small.
Our state-of-the-art digital printer at Large Print London combines speed with unmatched quality, making us adept at handling urgent requests. If you find yourself in a last-minute bind—be it for an important meeting or an exhibition—and discover your print stocks are empty, our instant print service is here to save the day. Conveniently place your order from home and pick it up directly from our shop. Plus, if you're pressed for time, we offer same-day delivery at competitive rates. Trust Large Print London as your go-to for all urgent printing needs in the city.
Next Day Printing Products
Our next day printing services are designed to cater to our valued customers across the entire UK. When you place an order with us today, you can expect to receive your prints anywhere in the UK by the very next day. It's a commitment we take seriously, ensuring that your printing needs are met promptly and efficiently. Take advantage of our extensive range of next day products, all available for convenient online ordering. At Large Print London, we're dedicated to providing swift and reliable printing solutions to customers throughout the United Kingdom.
Transform any space with our next day foamex printing solution. Perfect for exhibitions, presentations, or home decor, our fast and quality printing ensures you make an impression immediately.
Capture and cherish those special moments with our next day canvas printing. Whether for art projects or personalized gifts, trust us to bring your memories to life with unparalleled vibrancy and clarity.
Sturdy and versatile, our next day correx printing is perfect for promotional signs, estate agent boards, or event notifications. Trust in our quick delivery for your urgent signage needs.
Organizing a big event? Let us take care of your seating logistics with our next day table plan printing. Perfect for weddings, corporate events, or grand parties, our crisp prints ensure everyone finds their place.
Send out stylish and custom invites with our next day invitation printing. Perfect for all events, from weddings to business seminars, get the word out quickly with our premium printing service.
In challenging times, we're here to help. Our next day funeral order of service printing offers a respectful and prompt service, ensuring you can honor your loved ones as you wish.
Networking made easy with our next day name badge printing. Perfect for conferences, seminars, or social gatherings, ensure everyone's name shines bright.
Celebrate achievements and milestones with our next day certificate printing. From academic achievements to corporate recognitions, we ensure your certificates look as outstanding as the achievements they represent.
First impressions matter. With our next day portfolio printing services, showcase your work in the best light. Ideal for designers, artists, or professionals looking to impress.
Boost your brand's personal touch with our next day compliment slip printing service. Ideal for businesses looking to add that extra note of appreciation or personal message. Make every package or correspondence memorable with high-quality slips delivered in record time.
Elevate your brand's correspondence with our next day letterhead printing. Perfect for businesses and professionals desiring a polished look, our quick service guarantees your letterheads reflect the sophistication and gravitas your brand commands.
Make a lasting impression at any event or promotion with our next day roller banner printing. Ideal for trade shows, exhibitions, or store promotions, our roller banners are printed with precision and speed, ensuring you're ready to captivate your audience when you need to.
Ensure your message stands out from the rest with our premium next day postcard printing services. Ideal for businesses and personal use alike, our swift turnaround ensures your postcards are in your hands right when you need them.
Sip in style or offer the perfect personalized gift with our next day mug printing services. Whether for business branding or personal designs, your mugs will look fantastic.
Stay organized and inspired with our next day calendar printing. Perfect for gifts, businesses, or personal use, start any day of the year with your custom design.
How Large Print London Makes a Difference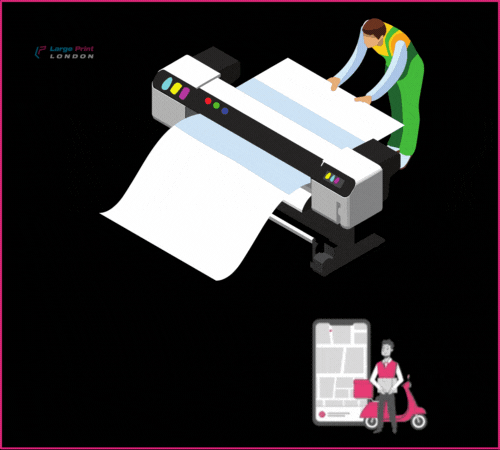 At Large Print London, we're here to transform your printing experience by breaking free from traditional office hours. We operate as a 24-hour printing shop, providing services such as overnight printing, and last-minute printing. This means you can rely on us for quality prints whenever you need them, even at the eleventh hour.
For London-based customers, our same-day printing and delivery services provide unmatched convenience. Whether it's a last-minute presentation or an unexpected deadline, we ensure your projects are completed with precision and speed. When time is of the essence, trust Large Print London for professional and urgent printing solutions, day or night.
We understand that your printing needs can arise at any time, including weekends. That's why we offer seamless weekend printing services to accommodate your schedule. Whether it's a last-minute printing project or a business requirement, our 7-day-a-week operation ensures you have access to high-quality prints even on Saturdays and Sundays.
Same Day Printing and Delivery Anywhere in London
Offering unmatched same-day printing and delivery anywhere in London, our commitment is to get your order into your hands within a mere 2 hours. Whether it's business proposals, event materials, or last-minute presentations, trust in our rapid service to meet your tightest deadlines without compromising on quality. Our seamless process, paired with state-of-the-art technology, positions us as London's premier choice for efficient and reliable urgent printing solutions.
No Minimum Order Quantity
Many print shops in London impose restrictions, requiring a minimum number for online print orders. This often leaves individuals, eager to customize just one or a few item, feeling overlooked. Enter Large Print London – where every order, big or small, is given our full attention. Whether you desire a single custom t-shirt or a bulk order, we're equipped and excited to cater to your unique requirements. With us, there's no minimum – just endless possibilities.
At Large Print London, we're committed to sustainable printing practices. We understand the importance of reducing our environmental footprint while delivering high-quality prints. That's why we utilize eco-friendly materials, energy-efficient machinery, and responsible printing processes. Whether it's banners, posters, or custom garments, our dedication to sustainability ensures that your prints not only look fantastic but also contribute to a greener planet.
Affordable Design Services for Urgent Printing
In today's fast-paced business environment, the demand for rapid yet high-quality printing services has never been higher. At Large Print London, we seamlessly blend affordability with excellence, ensuring that your urgent printing needs are met without straining your budget.
Why Opt for Our Affordable Design Services?
Quick Turnaround: Time is of the essence, and our team prioritizes your urgent requests, ensuring prompt delivery without sacrificing design quality.

Expert Designers on Board: Our seasoned designers craft visually appealing designs tailored to your specific needs, ensuring that every print communicates your message effectively.

Cutting-Edge Tools: We employ the latest design software and tools to provide you with designs that stand out in a crowd.

Versatility: Whether it's vibrant banners, impactful posters, custom garments, or any other print material, our design services encompass a wide range of mediums.

Transparent Pricing: No hidden charges. Our affordable rates are designed to cater to businesses of all sizes, from startups to established enterprises.

Consultation Services: Not sure about your design? Our team provides valuable insights and suggestions to enhance your print materials, ensuring they resonate with your target audience.
Frequently Asked Questions (FAQs) about Print in London
Where can I find a print shop in London?

There are several print shops located throughout London. You can search online using terms such as "print in London" or "print shop near me" to find one close to your location.
I need urgent printing. What are my options?

Many print shops in London offer urgent and last-minute printing services. Look for terms like "urgent printing," "24-hour print shop," and "overnight printing" to find shops that cater to immediate needs.
Do any print shops offer same-day printing in London?

Yes, there are shops that provide same-day printing services. Simply search for "same day printing" or "instant printing" to find relevant options.
How do I find the nearest printing shop?

Simply enter "printing shop near me" into a search engine or use map applications like Google Maps. These tools will provide a list of nearby printing shops based on your location.
Are there any extra charges for same-day or next day printing?

Depending on the volume and complexity of the order, there might be additional charges for expedited services. It's best to consult with our customer service team for specific pricing details.
What if I can't find a printing service near me that offers same-day or next day printing?

If you're struggling to find a local service that offers expedited printing, reach out to us directly. We can provide guidance on the best solutions for your needs, and may have partners in the area who can assist.
Are there any digital printing services available in London?

Absolutely! Digital printing is widely available in London. Just search for "digital printing London" to find specialized digital print shops.
I'm looking for professional printing services in London. Any recommendations?

London boasts numerous professional printing services. To find the most reputed ones, you can search for "professional printing services London. Additionally, perusing Google or Trust Pilot reviews prior to finalizing your order is a savvy way to gauge their credibility and customer satisfaction.
Are there any printing shops in London that operate 24/7?

Yes, there are a few 24-hour printing shops in London. To find them, search for "24 hour printing shop" or inquire at local shops to see if they offer round-the-clock services.
Can I get a proof of my print job before the entire order is processed?

Certainly! We can provide a digital proof or a printed sample upon request. Please note that this may affect the turnaround time for same-day or next-day services.
Can I submit my own designs for printing?

Of course! We accept various file formats for printing. Ensure your design is of high resolution for the best results. If you're unsure about the suitability of your file, our team is on hand to assist.
What file formats do you accept for printing?

We accept a variety of formats including PDF, JPEG, PNG, and TIFF. For specialized print jobs, please contact our customer service for specific requirements.